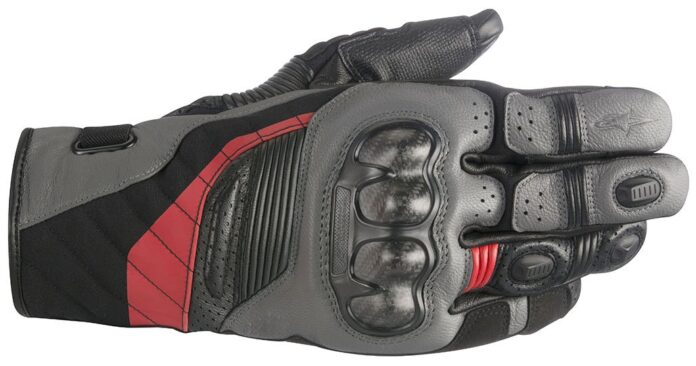 Product Name – Belize Drystar Glove (suggested retail price – € 149.95 Euro / £ 139.99 Sterling)
Category – Road Riding
SIZES: S-3XL
Description – A multi-material road riding glove featuring Alpinestars DRYSTAR® PERFORMANCE sealed membrane for waterproofing and sensitivity on the bike's control, the Belize Glove incorporates a matt carbon knuckle guard for class-leading protection. With an innovative new wrist closure for safely securing the glove, the Belize offers optimized levels of comfort, performance and protection.
ï Multi-panel, multi-material construction consisting of stretch polyamide fabric, leather and perforated leather on backhand.
ï Incorporates Alpinestars' waterproof DRYSTAR® PERFORMANCE sealed triple layer construction for a highly reduced material construction to promotes dexterity and sensitivity of bike controls.
ï Ergonomic stretch insert between thumb and palm offers flexibility to vastly improve hand movement.
ï Leather palm, thumb and fourchettes for comfortand durability.
ï Localized perforations on backhand and palm for comfortand airflow.
ï PU-coated reinforcements on palm and thumb provides superior grip on bike's controls.
ï Synthetic suede reinforcements with padding on the palm.
ï TPU palm and finger sliders to provide abrasion resistance on key impactzones.
ï Alpinestars' new wrist closure system with stretch webbing strap for tight closure.
ï Reflective print to increase rider visibility.
ï Touch screen compatible fingertips for use with smartdevices.
ï Molded mattcarbon reinforced hard knuckle to increase protection.
ï Stretch accordion inserts on finger tips and backhand to increase flexibility and fit.
ï Alpinestars developed ergonomic stretch insert between thumb and palm offers flexibility to vastly improve hand movement.
ï ARSHIELD reinforcements, consisting of aramid fiber and polyamide for abrasion resistance performance for fourth finger.
ï Large stretch panelon backhand for better fit and improved comfortto help reduce fatigue.
ï BELIZE DRYSTAR® GLOVE is CE certified level 1.