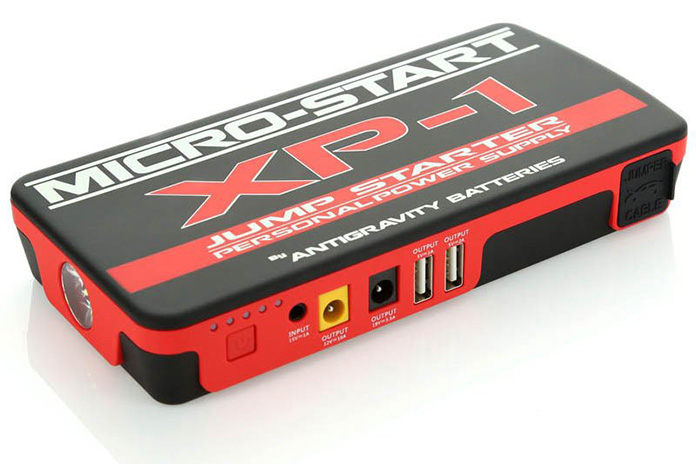 Compact and light enough to fit in a jacket pocket, yet packing enough punch to start a 5-litre V8 engine, the Antigravity Micro-Start XP-1 PPS (Personal Power Supply) is a must-have for any motorcyclist.  
At just 171 x 83 x 27 mm, and weighing only 436 g, the Micro-Start is easily stashed under a seat or in luggage for use out the road, yet with an output of up to 400 Amps, it's capable of jump-starting motorcycles, cars and even commercial vehicles, up to 30 times on one charge.
It comes complete with Mini Jumper Clamps to attach to battery terminals, packed into its neat carry case – so no need to rely on passing motorists for a loan of theirs.
The XP-1 can also power and charge devices like smart phones, cameras, tablets, laptops, and much more, so you can re-charge your gadgets on the move. It has four on-board power ports: 19-Volt for laptops, 12-Volt standard output and two 5-Volt USB outputs.
It also has a high-power 110-Lumen LED flashlight built into one end, with two flash patterns, including an S.O.S. flashing beacon for emergencies.
It can be re-charged from any standard three-pin 240 Volt socket.
The XP-1 comes in a convenient carry case with everything needed to jump-start vehicles and charge electronics, priced £149- including VAT.
Visit www.nippynormans.com for details
Click here for more info on Arai Helmets
Click here for more info on Xena Security
Click here for more info and to buy Biker T-Shirts
Grid Girls UK
If you would like to receive our headlines daily to your email inbox then sign up to our newsletter: Here
Subscribe to our news channels: Here