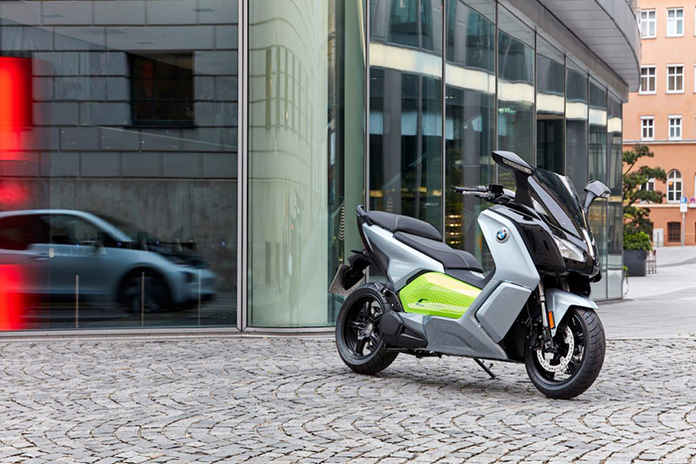 BMW C evolution qualifies for £1,500 subsidy as part of £35 million government incentive. 
New government initiative to boost electric vehicle sales now includes the BMW C evolution.
BMW's revolutionary C evolution electric scooter has qualified for a £1,500 grant thanks to a new government initiative aimed at further boosting ultra-low emissions vehicle sales.
The new £35 million package was recently unveiled by Transport Minister John Hayes, with funding going towards grants for buyers along with a commitment to increase the number of chargepoints on streets and places of work.
An initial £3.75 million is being made available for motorcycle and scooter riders, providing them with up to 20 per cent off the cost of an electric motorcycle or scooter. Buyers will be able to claim a maximum discount of £1,500, reducing the cost of the current standard BMW C evolution price to £10,730 from £12,230. The price of the new, longer-range BMW C evolution Plus will be reduced to £12,000 from the current £13,500 with the grant deduction.
Transport Minister John Hayes said: "No matter what mode of transport you need – a scooter to get to work, a car or a van to run your business – we are here to help you do it with zero emissions.
"The number of ultra-low emission vehicles on our roads are at record levels and new registrations have risen by 250 per cent in just over two years.
"We are committing £35 million to help install new chargepoints and offer new grants as we aim for nearly all cars and vans on our roads to be zero emission by 2050."
The funding includes:
Up to £10 million funding for chargepoints outside workplaces and homes where there is no off-street parking
Launch of an initial £3.75 million scheme to encourage uptake of zero emission motorcycles and scooters
£2 million awarded to public and private sector organisations to deploy hydrogen fuel cell vehicles
Next steps of a £20 million competition that will help councils roll out chargepoints for ultra-low emission taxis
For more information on BMW Motorrad products, or to find your local BMW Motorrad Retailer, visit www.bmw-motorrad.co.uk or call 0800 777 155.
Click here for more info on Arai Helmets
Click here for more info on Xena Security
Click here for more info and to buy Biker T-Shirts
Grid Girls UK
If you would like to receive our headlines daily to your email inbox then sign up to our newsletter: Here
Subscribe to our news channels: Here