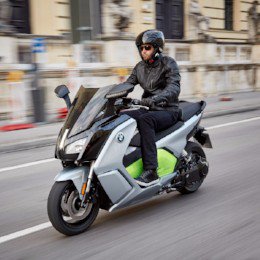 CENEX is the perfect opportunity for BMW Motorrad to demonstrate the commitment the company has made to a low carbon and sustainable future for two-wheel transportation.
BMW Motorrad was one of the first manufacturers to offer a completely electrically powered two-wheeler in the form of the well-received C Evolution scooter which was launched in 2014.
The C Evolution is 100% electrically-powered and shares battery technology with the BMW i3 car. It produces a peak output of 48 bhp (35 kW) and 72 Nm of torque at the crankshaft makes for 600 Nm of torque at the rear wheel in practice, enabling acceleration from 0 – 50 km/h in 2.7 seconds.What's more there is a range of 100 kilometres in urban setting, four riding modes and energy recuperation during braking. The electric drive in the C evolution ensures a whole new sensation.
BMW expects this scooter to be eligible for the soon-to-be-announced OLEV grant which would see £1500 cut from the current retail price of £13,500. Details of the forthcoming OLEC grant will be released in the coming weeks.
BMW i was the technological inspiration behind the C evolution battery. The modules are identical to those used in the BMW i3 and are produced at the same plant in Dingolfing. The battery is charged using the integrated charging device – either at a regular household power socket or at a charging station. When the battery is completely flat, the charging time will ideally be approximately three hours (220 V, 16 A). A charge level of 80 % is reached after just 2:15 hours.
Typically BMW: design that embodies the future.
The styling of the C evolution is inspiring and futuristic yet still instantly recognisable as being typical of BMW Motorrad. LED turn indicators, LED lights, TFT display and the paint finishes demonstrate innovative power. Meanwhile the typical split face at the front clearly reflects the maxi scooter's BMW Motorrad genes.
CENEX is a Low Carbon Vehicle Event that runs over 14/15 September 2016 at Millbrook Proving ground, Leics.  http://www.cenex-lcv.co.uk/2016/
Twitter @lcv_event #LOCV2016
Click here for more info on Arai Helmets
Click here for more info on Xena Security
Click here for more info and to buy Biker T-Shirts
Grid Girls UK
If you would like to receive our headlines daily to your email inbox then sign up to our newsletter: Here
Subscribe to our news channels: Here