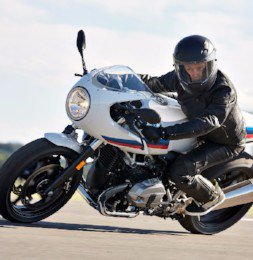 Two new models and various updates herald the new season following press conference at Europe's first major International show.
BMW Motorrad held a press conference today at the International Motorcycle, Scooter and E-Bike Fair (Intermot) in Cologne to unveil two new motorcycles plus several extensively redesigned models.
From the BMW Motorrad worlds of Heritage, Tour, Roadster, Adventure and Sport there are two new motorcycles, as well as several models that have undergone substantial redesigns; all revealed for the first time.
BMW R nineT Racer and R nineT Pure
New for 2017 are the BMW R nineT Racer and the R nineT Pure; both combine the classic concept of a purist roadster with authentic style and modern performance.
Bringing a new, sporty look and riding experience to the BMW Heritage range, the R nineT Racer deliberately takes design inspiration from half-faired sports bikes of the past, but using contemporary technology to ensure the ride is sporty, fun and engaging.
The new BMW R nineT Pure has been stripped back to absolute essentials and is set to become the very essence of a purist, classic roadster. Customers then have accessory options available to them to create their own truly individual roadster.
UK OTR prices start from:
R nineT Racer – £10,675
R nineT Pure – £9,900
BMW S 1000 R/RR/XR
With the launch of the BMW S 1000 XR in autumn 2014, BMW Motorrad offered its own new interpretation of the sports to touring range, not least adding a powerful dose of emotion into the mix. Detail changes for 2017 include enhanced power output and increased payload capacity.
The fact that the S 1000 RR is the Superstock racer's first choice speaks volumes. For 2017 the bike will come with solo configuration as standard, with passenger set-up as an 'ex-works' order choice, in addition to enhanced rider electronics aids. The RR also has available a complete programme of race-focused electronic upgrades available as options, including the newly available ABS Pro which also activates the ABS system as required when the bike is leant over in corners.
As usual, an extensive programme of optional equipment and motorcycle accessories are available for customisation of the new BMW S 1000 R/RR/XR models.
All the above models are now EU4 compliant.
UK OTR prices start from:
S 1000 R – £10,605
S 1000 RR – £13,850
S 1000 XR – £12,450
BMW K 1600 GT
Regarded as the lightest and most compact 6-cylinder in-line engine for motorcycles, the updates to this Grand Tourer give the motorcycle more sophistication and comfort than ever before. The riding experience has been significantly enhanced and with the new reverse assist, manoeuvring the motorcycle has never been easier.
UK OTR price starts from:
K 1600 GT – £17,040
For more information on BMW Motorrad products, or to find your local BMW Motorrad Retailer, visit www.bmw-motorrad.co.uk or call 0800 777 155.
Click here for more info on Arai Helmets
Click here for more info on Xena Security
Click here for more info and to buy Biker T-Shirts
Grid Girls UK
If you would like to receive our headlines daily to your email inbox then sign up to our newsletter: Here
Subscribe to our news channels: Here