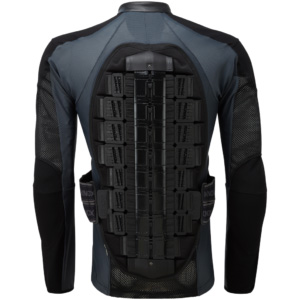 The result of valuable feedback from sports bike riders, the Knox Defender Elite combines 'track' levels of protection with the comfort and convenience of an armoured shirt.
PROTECTION:
Alongside the Knox CE-approved armour in the shoulders and elbows, the new Defender Elite is fitted with a full length Aegis back protector.
Technically advanced, and fully CE certified to Level 2 – the highest rating of the latest back protector standard – the unique Honeycomb Plate Design and Inclined Cell Wall Technology on the Aegis give consistent protection throughout the stringent tests.
Flex channels allow the spine section to articulate, moving with the rider and allowing it to sit perfectly around the contours of the back. A layer of EVA foam is incorporated on the inside for extra spinal protection, and a fully adjustable and removable soft PU kidney section is also included.
A lightweight CE-approved chest protector is also fitted to the Defender Elite as standard. It can be adjusted to suit the wearer, or removed altogether.
COMFORT:
British arrownet mesh on the front and back has a waffle-like construction that promotes maximum airflow, while the moisture-wicking Italian Carvico bi-elastic micro mesh on the sleeves and side panels is highly breathable, to keep the skin fresh and dry, preventing irritation and itching.
Tough, abrasion-resistant two-way stretch panels feature on the shoulders and elbows, to aid flexibility and movement.
The low profile cut of both the Aegis and the shoulder and elbow protectors, means it can fit under close-fitting jackets and suits comfortably.
A soft Leather collar and the Defender's tailored fit aid all-day comfort.
CONVENIENCE:
Naturally, all the armour in the Defender Elite can be removed for washing, but unlike any other garment of this type, the wearer simply zips the shirt off the back protector – no fiddly pockets or fasteners to wrestle with – making it very easy to keep it fresh and clean throughout the riding season.
The Aegis back protector also has a removable and washable spacer fabric liner for extra freshness.
The new Knox Defender Elite comes in sizes S–3XL, in classic Black and Grey and is priced at £249.99 including VAT.
Call Knox on 01900 825 825 or visit: www.planet-knox.com for details
Click here for more info on Arai Helmets
Click here for more info on Xena Security
Click here for more info and to buy Biker T-Shirts
Grid Girls UK
If you would like to receive our headlines daily to your email inbox then sign up to our newsletter: Here
Subscribe to our news channels: Here