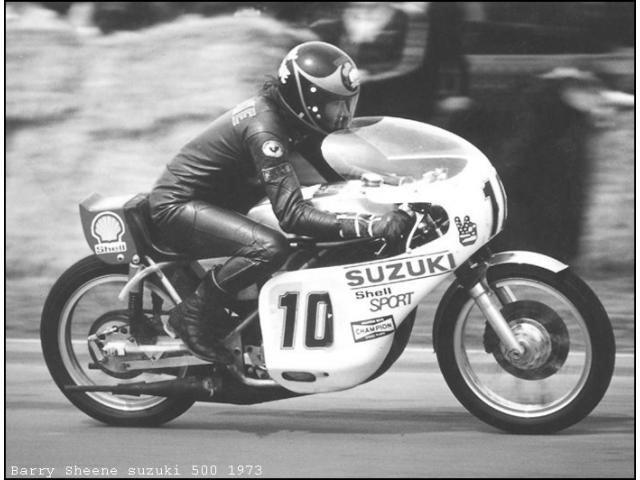 The 2017 Carole Nash MCN London Motorcycle Show will be showcasing a rare collection of memorabilia from British motorcycling hero Barry Sheene next month, including race leathers, helmets, FIM World Championship medals and four of the star's factory Suzuki's – including his 1976 and 1977 title winning machines!
London born Barry Sheene who grew up Holborn, is arguably one of the most popular motorcycle racers of all time and the 2017 Carole Nash MCN London Motorcycle Show will be honouring the capital's greatest racer with a special collection of memorabilia spanning his career.
Fans of 'Bazza' will be able to see his 1971 Suzuki XR05 TR500, or the 'Seeley Suzuki' as it has become known. Raced by the star at the start of his career, he would later claim it to be the best-handling machine he ever rode. Also on display will be the 1979 Works Suzuki XR27, which was raced in the now infamous British Grand Prix at Silverstone where Barry and American Kenny Roberts traded places (and hand signals!) to the very end.
The real highlight however will be the machines the Londoner won his two world titles on. Still the last machines to power a British rider to a premier class title, the 1976 factory Suzuki XR14 and the 1977 XR14A will be pride of place on the display, allowing visitors to get up close and personal with genuine motorcycling history.
Also on display will be his two FIM World Championship medals, his helmet from the 1976 season as well as the one he wore at his appearance at the 2002 Festival of Speed, a set of leathers from 1984 as well as his Festival of Speed leathers.
Race fans will also get a thrill from the free live action display, Slide. Held in the centre of the arena, Slide will see Isle of Man TT legend John McGuinness go head-to-head with ex World Superbike Champions Neil Hodgson, Troy Corser, fan favourite Chris Walker and Australian Speedway stars Mark Lemon and Kevin Doolan.
Away from the racing, the show will also be hosting the 'Harley-Davidson: Battle of the Kings' UK finale. With fans available to vote for their favourite custom machine online now, the top five will be showcased at the 2017 Carole Nash MCN London Motorcycle Show where a panel of ten judges will select the one winner to go through to the world final in November.
Harley-Davidson fans will also want to head over to the Carole Nash stand, where they will be showcasing a custom Harley as well as two bikes from Bonhams Auction House. The team will be on hand for visitors to offer insurance quotes and answer any questions and if they grab a quick selfie with the Carole Nash Crew, they can pick up a complimentary 2017 calendar, which is raising money for the Nationwide Association of Blood Bikes. Can't wait for the show? Click here to find out more.
Rob Aherne Managing Director of Motorcycling at Bauer Media said "Barry Sheene is a true icon of British motorcycling, so we're incredibly proud to be able to give fans a chance to see this rare collection of memorabilia in his home town. With four of his most famous machines on display, alongside his helmets and leathers, it really is a unique exhibit for visitors."
To find out more about the 2017 Carole Nash MCN London Motorcycle Show and book tickets, visit www.mcnmotorcycleshow.com or call 0844 873 7346
Click here for more info on Arai Helmets
Click here for more info on Xena Security
Click here for more info and to buy Biker T-Shirts
Grid Girls UK
If you would like to receive our headlines daily to your email inbox then sign up to our newsletter: Here
Subscribe to our news channels: Here