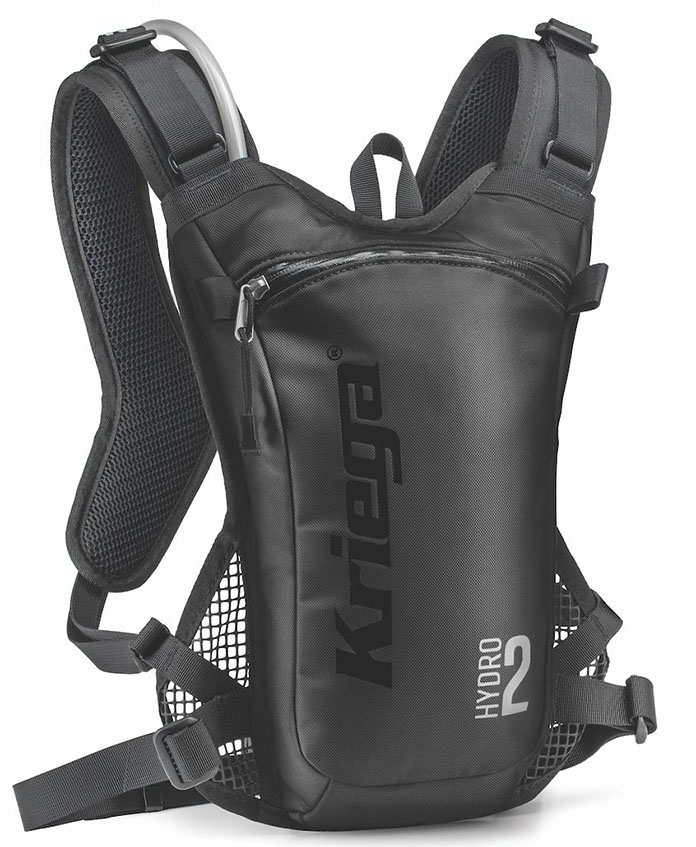 With enduro riding becoming more extreme, there's never been a better time for a comfortable, lightweight hydration pack to keep you hydrated and fully mobile… which is where the Kriega Hydro-2 comes in.
The Kriega team have used their experience at events like the Erzberg Rodeo and Romaniacs to create a hydration pack which can cope with the harshest riding environments, whilst allowing the rider to concentrate on the obstacles ahead. For the first time in Kriega's history, the brand's iconic mono colourway has been extended to add lime, silver and orange options to match off-road bikes and kit.
Utilising a hard wearing 420D Cordura® Lite Plus construction, the Hydro-2 pack weighs just 620g (plus reservoir and fluids) and has been developed to be as unobtrusive and manoeuvrable as possible. Sitting high on the rider's back, it leaves room for a large waist pack for those longer journeys.
Kriega's renowned Quadloc-lite harness system keeps the pack firmly in place, distributes weight evenly and allows easy adjustment or removal, even whilst wearing body armour and riding gloves. A chest strap also helps disperse weight further from the shoulders, minimising back strain and providing even better freedom of movement.
The Hydro-2 pack contains a clever HydraPak 'Shape Shift' two-litre, leak-proof reservoir, which morphs the bladder shape to remain stable as the fluid volume changes. A removable high flow 'Blaster' bite valve reseals after each sip, ensuring each valuable drop ends up where it's intended. The drinking tube is easily disconnected (with an auto shut-off valve), allowing the HydraPak to be removed from the bag and filled up. The bag is even reversible for easy cleaning.
The Kriega Hydro-2 pack is available from Kriega stockists now and retails at £99 inc. VAT.
Hydro-2 features at a glance:
· Lightweight (620g) bag sits high on back to allow for extreme riding
· Unique QUADLOC-LITE™ harness distributes weight
· Shape-Shift Reservoir keeps bladder compact when not full
· Removable, high-flow bite valve with 'quick disconnect'
· Valve reseals after each sip and has on/off bar switch
· Hardwearing 420D Cordura® Lite Plus with Hypalon harness reinforcement
· YKK® water-resistant zip
· Removable waist strap distributes weight from back
· Reflective panels on harness and rear logo
· Available in Black, Silver, Orange or Lime
· Priced at £99 inc VAT, available now!
For more information on the full range of Kriega products visit https://kriega.com/ and to find your local Kriega Stockist: https://kriega.com/ukdealers/