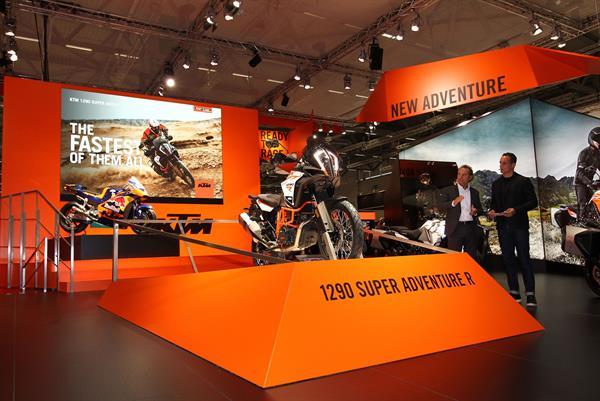 We are fascinated by the extraordinary, driven by relentless curiosity and always up for a two-wheeled adventure. In the dirt as well as on tarmac. Of course the MX bikes and Enduros remain a focal point of KTM's product portfolio, but for many years now, KTM's outstanding and ongoing business success has been tied to street bikes to a similar degree. The ADVENTURE Travel Enduros are our star players in that role. No less than four newly developed true Sportmotorcycles made in Austria storm into the limelight.
KTM CSO Hubert Trunkenpolz: "As KTM in Germany plays a massive role within our success story, we are pleased to announce the new line-up of our 2017 ADVENTURE models at the INTERMOT show. A range which reflects our technical excellence and believe in the purest and honest way of travel endure riding. Increased performance and rideability and numerous newly developed electronic features cleary show, in true KTM spirit – the race will be on again very soon".
KTM 1290 SUPER ADVENTURE R – FASTEST OFFROAD TRAVEL ENDURO. FULLSTOP.
True adventure takes guts, so KTM's rally experts brought out the big guns and packed 1.301 cc, 140 Nm of torque and 160 hp into the world's most advanced Travel Enduro chassis. This makes for a mile-munching omnivore, ready to carve its name into any terrain – the tougher, the better. It is our most extreme Adventure ever, full stop. Full throttle.
KTM 1090 ADVENTURE R – BRING IT ON
The KTM 1090 ADVENTURE R stares down anything in its path. Bespoke WP suspension, offroad wheels and a tough yet fuel-efficient engine are ready to rumble. Decades of rally raid victories roar within. As shrewd as it is chiseled, this bike uses the same state-of-the-art technology as the 1290 SUPER ADVENTURE R. The result? 125 hp (92 kW) that are refined as can be, but rude as you please. Roads may end, but the fun will not. The world is yours – devour it.
KTM 1290 SUPER ADVENTURE S – GROUNDBREAKER
Whack the throttle wide open in the middle of a nasty corner. Brake hard while fully leant over. No harm is done – just grin and rocket on. Even when you're bending the laws of physics, KTM's combination of 160 hp, 140 Nm of torque and a mere 238 kg is kept in check by the most advanced electronics in the world of motorcycling. All you have to do is focus on the road ahead – and hold on tight. But the 1290 SUPER ADVENTURE S offers buttery smooth cruising as well, if that's what you really want…
KTM 1090 ADVENTURE – PURE ADRENALINE
Those who want to travel far and fast, don't need a lot. Just the best. So we built the KTM 1090 ADVENTURE to be light on its feet, yet adequately equipped and easier to ride than ever. Easy on your wallet too. Nevertheless, multi-mode traction control and ABS come as standard and the engine is built using the same state-of-the art technology as the 1290 SUPER ADVENTURE. Even though this V-twin is a little smaller, it still delivers 125 hp (92 kW). The featherweight chassis and well-balanced suspension team up with prize-winning Metzeler Tourance Next tires to take you wherever you dare, whenever you want. All fun, no bulk – this bike is made to load up on adrenaline instead.
ADVENTURE RALLY – 2017
Next to those new vehicle, KTM in Cologne also presents for the first time the ADVENTURE RALLY concept. To inspire riders and guide them into true adventures, a series of dedicated intense riding experience events will be in place alongside the launch campaign. And it's here to stay. With full focus on this already in North America successfully established rider's program and its extension to a global level – KTM delivers ADVENTURE on a full scale.
KTM RC16 – LIGHTS. CAMERAS. ACTION.
KTM is eagerly anticipating its biggest racing adventure ever. In 2017, the time has come for the company to finally face the top tier of road racing, competing in MotoGP. It is the pinnacle of two-wheeled motorsport on asphalt. Pure prototype racing. The forefront of technology and development. High stakes. Big pressure. For motorcycling, this is the biggest show on earth. And at the INTERMOT, it's showtime for the RC16 as it makes it first live appearance to the masses
Click here for more info on Arai Helmets
Click here for more info on Xena Security
Click here for more info and to buy Biker T-Shirts
Grid Girls UK
If you would like to receive our headlines daily to your email inbox then sign up to our newsletter: Here
Subscribe to our news channels: Here