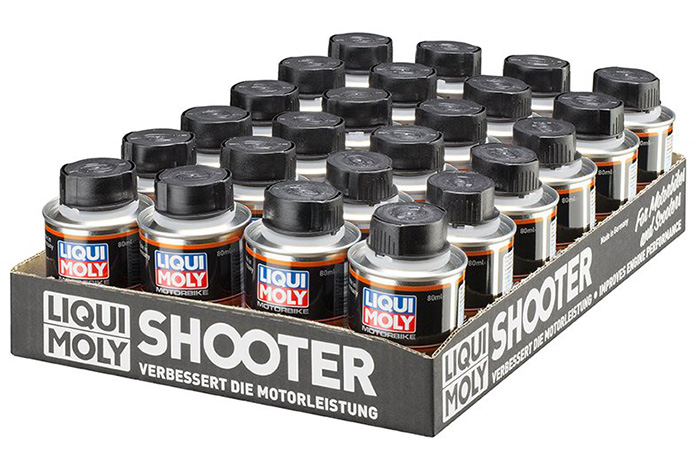 Liqui Moly is the official lubricant supplier to all Moto2 and Moto3 teams, selected and performance tested by HRC Japan and used exclusively across the two championships.
Developed and manufactured in Germany, the Liqui Moly Shooters additive range targets three areas: increased performance, improved economy and enhanced engine life. Keeping your fuel system and engine free of harmful and damaging deposits. Guaranteed for better throttle response and performance.
Shooters are a single use 80ml solution designed to be added to the tank when refuelling.
Speed Shooter – For increased Performance
Increases acceleration
Improves engine performance
Promotes optimum combustion
For 4-stroke and 2-stroke engines
One 80ml is sufficient for 10 litres of fuel
Recommended for use at every fuelling
RRP £4.99
4T Shooter – For improved economy
Fuel System Cleaner
Optimises engine performance
Improves fuel economy
Reduces emissions
Corrosion protection
For 4-stroke carb and fuel injected engines
One 80ml is sufficient for 5-10 litres of fuel
Recommended for use at every fuelling
RRP £4.99
Engine Flush Shooter – For enhanced engine life
Oil circuit flush and clean
Restores engine performance
Thorough engine cleansing
Promotes longer engine life
Will not harm seals or gaskets
Safe for catalytic converters
For 4-stroke engines
Use between oil changes
RRP £4.99
Please visit www.bikeittrade.com to find your local stockist
Click here for more info on Arai Helmets
Click here for more info on Xena Security
Click here for more info and to buy Biker T-Shirts
Grid Girls UK
If you would like to receive our headlines daily to your email inbox then sign up to our newsletter: Here
Subscribe to our news channels: Here