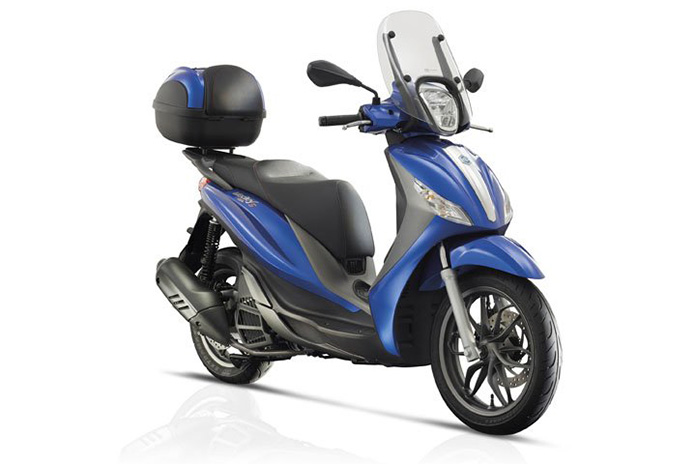 Piaggio have unveiled a comprehensive range of accessories for their new Medley 125, enabling owners to tailor the big-wheeler scooter to their needs.
STORAGE:
Complementing the Medley's already generous on-board carrying capability are two Top Boxes, available in 32-litre (£113.99) and 37-litre (£196.99) sizes. Both share the same Medley-specific fitting kit (£49.99) and both can accommodate one full-face or two open-face helmets. Colour-coded to match the Medley, the larger box comes with a Passenger Backrest too.
PROTECTION:
Two screen options help to keep the weather at bay – choose between the sporty Flyscreen (£99.99) or the larger Windscreen (£149.99), which has built in hand-guards for extra protection. Both are made from high quality shock- and scratch-resistant 4 mm methacrylate.
TECHNOLOGY:
Heading up the range are three advanced electronic systems that can be installed simultaneously – the Bike Finder (£86.98) enables owners to locate their Medley in crowded areas and busy parking bays, and also allows them to open the under-seat storage bay remotely.
Fitting the Piaggio Sound System (£476.98) uses the body of the Medley as a diffuser/speaker to play music or information from navigation systems. In other words, the scooter becomes a speaker.
For complete digital integration, the Piaggio Multimedia Platform (£207.98) links most smart phones to the scooter via Bluetooth®, displaying a wide variety of information, including speed, rpm, engine power and torque, instant and average fuel consumption, average speed, battery voltage and more, all of which are displayed on the phone's screen, in real time.
For further details of these, together with the complete range of Genuine Piaggio accessories, call 0117 972 5552 or visit www.uk.piaggio.com
Notes: All prices inclusive of VAT and correct at time of going to print.
Click here for more info on Arai Helmets
Click here for more info on Xena Security
Click here for more info and to buy Biker T-Shirts
Grid Girls UK
If you would like to receive our headlines daily to your email inbox then sign up to our newsletter: Here
Subscribe to our news channels: Here