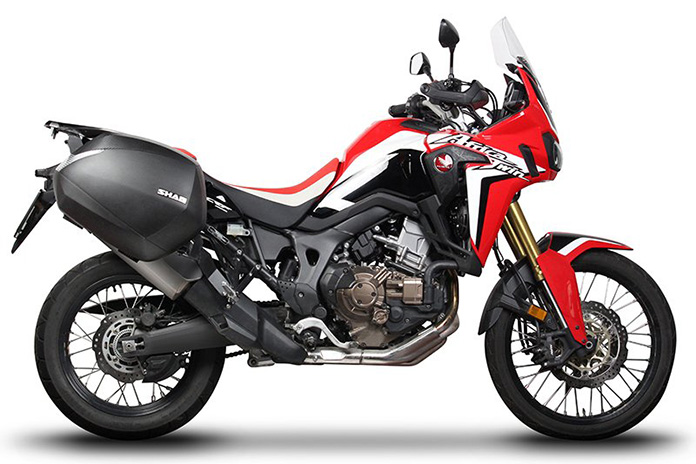 Spanish motorcycle and scooter luggage experts SHAD remain one step ahead of the rest and have already designed and produced new luggage and fittings for the latest motorcycles from market leader Honda.
The Honda CB500F, CBR500R and Africa Twin CRF1000L are just the latest in the Honda range for which SHAD have available stylish and practical accessories, and at a price that is a bonus for both the rider and motorcycle dealer too!
H0FR16IF (RRP £180.00) is the new 3P System fitting kit for the brand new 2016 Honda Africa Twin CRF1000L that allows mounting a top case onto the motorcycle. Designed specifically for each motorcycle model, the result is a high quality product, comfortable, safe, and easy to assemble and disassemble. To mount the side case onto the bike you will also require Shad SH36 side cases.
Speaking of which, the new CB500F and CBR500R models are catered for with the SH39 top case and SH36 side cases, again offering substantial storage capacity at an affordable price. The SH36 cases are celebrating their second anniversary within the SHAD range, and both popular and unique in that not only are they easily attached using the the 3P System, but have the capacity of a XXL modular helmet. There are not many side cases that can boast that!
In fact in 2015 the SH36 won the Red Dot Design Award for its innovative design, and like the SH39 is suitable for many motorcycles across the spectrum from BMW and Ducati, through Kawasaki and Suzuki to Triumph and Yamaha, plus others besides.
Check out www.shad.co.uk to see the vast range to suit the bikes you have.
Finally, for those after something a little smaller but just as essential, then how about the X0SE04 EO4 tank bank (RRP £67.99) which boasts a 3 litre capacity and is perfect for those essentials that need storing while you ride!
It boasts a semi-rigid construction, has a window in the top, waterproof zipper with rain cover and even the capacity to feed a USB charger through it.
The SHAD range is only distributed in the UK by the official UK distributor, Motorcycle Parts Network who offer an exclusive 2 year UK backed guarantee on Shad products.
For further information and details of your nearest official stockist please visit www.shad.co.uk or call 01908 214413
Click here for more info on Arai Helmets
Click here for more info on Xena Security
Click here for more info and to buy Biker T-Shirts
Grid Girls UK
If you would like to receive our headlines daily to your email inbox then sign up to our newsletter: Here
Subscribe to our news channels: Here