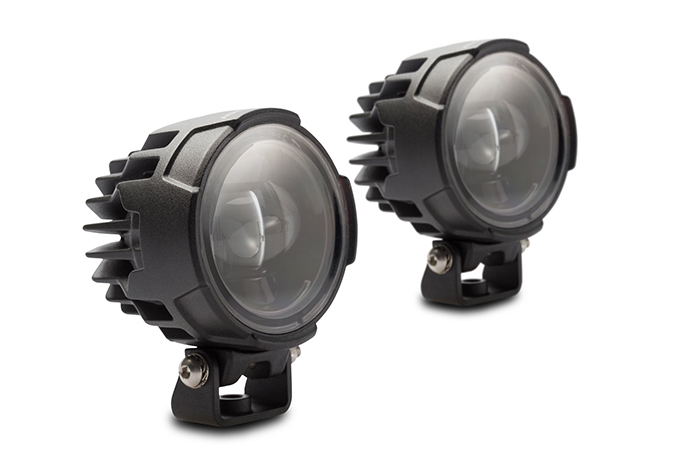 Simple to fit, SW Motech Evo Spotlights use maintenance-free LEDs, to help riders spot potential hazards in good time, and make themselves more visible to other road users too.
LEDs emit a powerful light, but consume significantly less power than traditional bulbs, putting less strain on the bike's battery. They're also long-lasting and maintenance-free.
Compact and subtly styled, Evo Spotlights are housed in a totally sealed, 100% waterproof, tough aluminium casing.
They connect directly to the motorcycle's battery – no changes to the motorcycle wiring are required – and come complete with a splash-proof handlebar switch, which is illuminated for ease of operation in the dark.
They're available in two different variants: 275 Lumen 'Fog Lights', which provide a wider horizontal spread of light; and 375 Lumen 'High Beam' for a narrow and powerful beam of light.
The Spotlights can be mounted horizontally or vertically, and can be fitted directly to crash bars or frame tubes, using bike-specific mounts (available separately). They measure just 7.1 cm in diameter, so are unobtrusive wherever mounted.
SW Motech Evo Spotlights cost £271.99 per pair, including VAT. Each kit comes complete with the required wiring harness and fuse, a 'toggle' handlebar mounted power switch – for easy operation when riding – plus all the required mounting materials and instructions.
Contact Motohaus Powersports on 01256 704909 or visit www.motohaus.com
Key features:
Maintenance-free operation through wear-free LEDs
Low power consumption
100% waterproof, fully sealed and strong aluminium housing
Wide/horizontal or narrow/powerful beam light dispersion options
Connect directly to battery, no changes to motorcycle electrics necessary
Splash-proof, illuminated handlebar switch
ECE test mark: R 01 PL E6 7.5 0430 MD E6
Clamp mounts for mounting to 22, 26, 27 and 28 mm crash bars (sold separately)
Bike-specific light mounts for frame mounting also available separatel
Click here for more info on Arai Helmets
Click here for more info on Xena Security
Click here for more info and to buy Biker T-Shirts
Grid Girls UK
If you would like to receive our headlines daily to your email inbox then sign up to our newsletter: Here
Subscribe to our news channels: Here