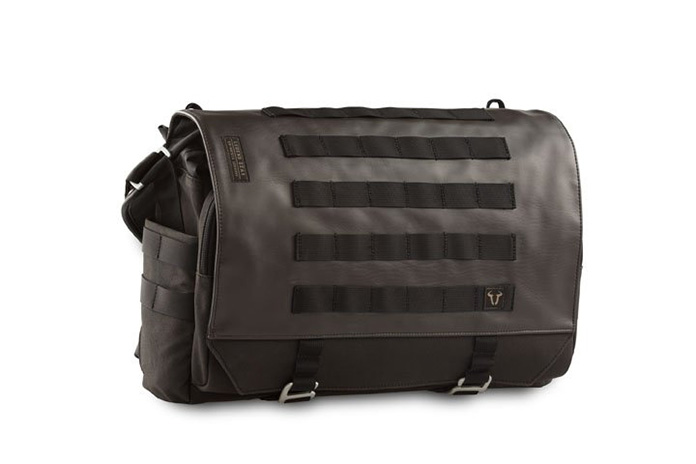 Designed for life on the road, the new SW-Motech Legend Gear Messenger Bag can even be converted from a handy shoulder bag to a tail pack.
A combination of waxed canvas and robust Napalon synthetic leather, with webbing straps and anodized aluminium buckles, gives the Legend Gear Messenger Bag an authentic vintage look, as well as the toughness needed for everyday use on a motorcycle.
The shoulder strap can be adjusted for length with one hand and is suitable for wearing on either left or right side, making it easy to put on or take off, even over bulky riding jackets.
A removable waist strap keeps the bag firmly in place during the ride, while padding on both the shoulder strap and back section cushion the wearer. An additional carrying handle allows the bag to be carried like a brief case.
Offering a generous 12 litre capacity, the main section of the Messenger Bag has a splash-proof lining and water-resistant internal roll-top closure, to protect contents from the weather. A padded laptop holder (up to 15-inch screen size) also features. There are additional zipped pockets under the flap.
Should the user need extra capacity, Legend Gear's unique military-style attachment system, with tough webbing loops and alloy hooks, allows LA1 and LA2 Accessory Bags to be mounted quickly and easily.
To convert to bag a tail pack, simply remove the shoulder strap and attach the optional mounting straps to the four integrated loops to secure to the bike seat or rack.
The SW-Motech Legend Gear Messenger Bag retails at £158.99 (including VAT) and the optional tail bag strap set is £20.99.
To view the complete range of SW-Motech accessories, contact their exclusive UK distributor Motohaus Powersports on 01256 704909 or visit www.motohaus.com for details.
Click here for more info on Arai Helmets
Click here for more info on Xena Security
Click here for more info and to buy Biker T-Shirts
Grid Girls UK
If you would like to receive our headlines daily to your email inbox then sign up to our newsletter: Here
Subscribe to our news channels: Here