DIABLOTM SUPERBIKE and DIABLOTM SUPERCORSA SC in new sizes and compounds, PHANTOMTM SPORTSCOMP RS for classic competitions and DIABLO ROSSOTM SCOOTER SC for racing scooters are the new products that Pirelli introduces in 2020, available to all motorcyclists
– For 2020 Pirelli announces numerous innovations in the racing range, enriching it with new products and expanding the choice of sizes and compounds of many  tyres. Pirelli has always been at the forefront of research and technological development in the racing environment thanks to its decades of commitment in the FIM Superbike World Championship. The main news for next year in the segment of racing tyres for production based motorcycles, in all classes of the Championship, is the use of DIABLO™ SUPERBIKE slick tyres.
For the premier class, in 2020 the Italian brand proposes this product in new increased sizes that allow further improvements in terms of handling and top performance, contributing to the continuous reduction of lap times. New compounds with a wider range of uses also better respond, in terms of versatility and conditions of use, to the needs of professionals as well as track-day enthusiasts.
News also for the street-legal DIABLO™ SUPERCORSA SC range, now available in a new SC3 compound which allows top performance over multiple sessions in an extraordinarily wide spectrum of track characteristics and operating temperatures, in line with the new DIABLO™ SUPERBIKE SC3 version.
Pirelli is expanding the 2020 racing range also with PHANTOM™ SPORTSCOMP RS, a new product dedicated to the competition of classic motorcycles with eighteen-inch rims that combines the well appreciated PHANTOM™ SPORTSCOMP vintage tread pattern with the latest technology developed for track tyres.
The innovations arriving in 2020 also concern the world of racing scooters, for which Pirelli has developed DIABLO ROSSO™ SCOOTER SC, now available in two twelve-inch sizes.
2020 Product highlights:
 
DIABLO™ SUPERBIKE 
New advanced sizes 125/70 R 17 and 200/65 R 17 developed for the SBK class and a new advanced size 190/60 R 17 developed for the SSP600 class;
New sizes 110/70 R 17 e 140/70 R 17 developed for the SSP300 class;
New SCX compound, available in the rear size 200/65 R 17;
New SC3 compound, available in a wide selection of front and rear sizes; 
DIABLO™ SUPERCORSA 
New SC3 compound, available in a wide selection of front and rear sizes;
PHANTOM™ SPORTSCOMP RS

Dedicated to classic racing, delivering top performance in a vintage design;
DIABLO ROSSO™ SCOOTER SC
Dedicated to the world of competitions for scooters, pitbikes, minimotards and miniGP bikes with twelve-inch rims.

DIABLO™ SUPERBIKE
The new advanced racing sizes 125/70 R 17 and 200/65 R 17, dedicated to the Superbike class, and the new rear 190/60 R 17 for the Supersport 600 class, will merge in 2020 with the existing range, and are the result of Pirelli's constant commitment to research and development in the racing world.
Characterised by extremely sharp double-radius profiles, the oversized sizes guarantee the rider a new level of handling, and an innovative feeling of control when cornering thanks to the greater contact area between the tyre and the asphalt.
The state-of-the-art structures of DIABLO™ SUPERBIKE have been developed by Pirelli engineers for the FIM Superbike World Championship and guarantee an excellent distribution of contact pressures, thus allowing uniform wear and performance consistency.
During the 2019 racing season, Pirelli has also perfected – in order to make it available to all riders worldwide – the new DIABLO™ SUPERBIKE SCX, an extra-soft solution halfway between a qualifying compound and the latest evolution of the renowned Soft tyre (SC0). It is conceived for multiple uses: it is ideal for preparing the racer for a special qualifying session preceding the Superpole® Race, it is dedicated to the Superpole® Race but versatile enough to be used in traditional races and free practice sessions with high operating temperatures and with low abrasive surfaces.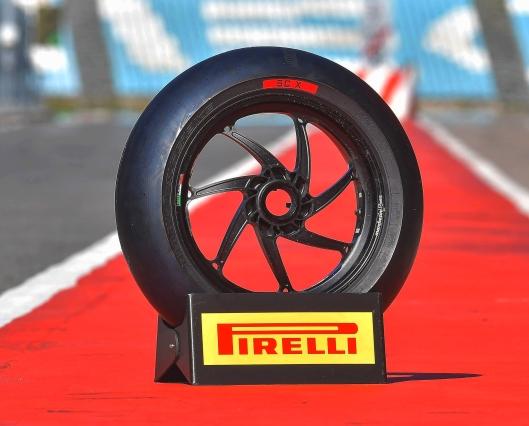 Diablo Superbike SCX
In 2020 Pirelli also introduces an innovative version of the new SC3 compound, which is proposed as the most versatile in terms of range of operating conditions in which it is able to offer excellent performance. This compound is the ideal choice for motorcyclists who compete in disciplines where consistency and versatility are required for the operating conditions – circuits with mixed asphalts, long circuits that cause long thermal cycles, multiple sessions – and for those who participate in track-days. Thanks to the constant work carried out by Pirelli engineers in the competition field, and noting the importance of correct pressure settings to obtain optimum performance and durability, the DIABLO™ SUPERBIKE SC3 has been designed for use on track even without tyre warmers.
Also the street-legal DIABLO™ SUPERCORSA range will include in the 2020 line-up, the SC3 compound in both front and rear sizes.

PHANTOM™ SPORTSCOMP RS
PHANTOM™ SPORTSCOMP RS is a new competition tyre also approved for road use, designed for motorcycles with eighteen-inch wheels and intended for classic sprint and endurance races.
PHANTOM™ SPORTSCOMP RS combines the historic tread design of the iconic PHANTOMTM SPORTSCOMP with the latest technology for high performance track tyres, and is designed for contemporary classic racing applications.
The main advantages offered to the rider are the quick warm-up and the wide range of operating temperatures that allows entry to the track even without tyre warmers. PHANTOM™ SPORTSCOMP RS offers great consistency as the bike is lent over  thanks to a dual-radius profile optimised for use on older chassis; once on the racing line at full lean, the large footprint area communicates control to the front and grip to the rear tyre.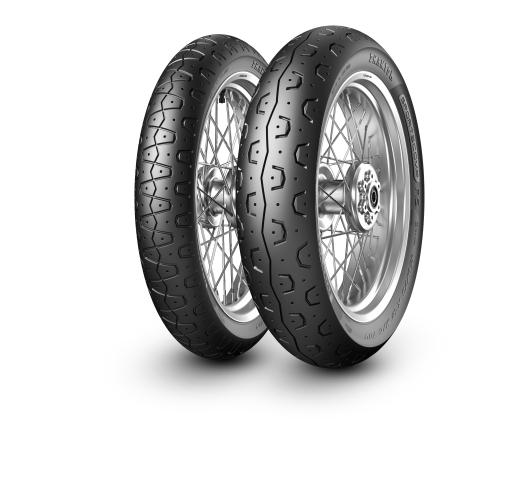 Pirelli Phantom Sportscomp RS set isometric
PHANTOM™ SPORTSCOMP RS is designed to face different situations including intermediate wet conditions: the improved mixing processes support a high and uniform extra-fine Carbon Black content and guarantee constant peak performance even over several sessions. In combination with a draining tread pattern, the high 'imprintability' of the compound allows PHANTOM™ SPORTSCOMP RS to guarantee grip and drainage even on wet asphalt.
In 2020 PHANTOM™ SPORTSCOMP RS will be available in the sizes 110/80 R 18 M/C 85V TL front, and 130/70 R 18 M/C 63V TL and 150/70 R 18 M/C 70V TL rear.

DIABLO ROSSO™ SCOOTER SC
The new DIABLO ROSSO™ SCOOTER SC brings the full Pirelli racing experience to the scooter world. With special profiles, innovative compounds and a tread design derived from the DIABLO ROSSO™ SCOOTER, Pirelli has created a new street-legal tyre optimised for track applications.
Among the main advantages of DIABLO ROSSO™ SCOOTER SC there is the high grip guaranteed by the high-content Carbon Black compound, designed to guarantee rapid warm-up and excellent resistance to tearing. Thanks to the know-how derived from the developments of the DIABLO SUPERCORSA™ SC range, DIABLO ROSSO™ SCOOTER SC is suitable for use in all classes of scooter competitions.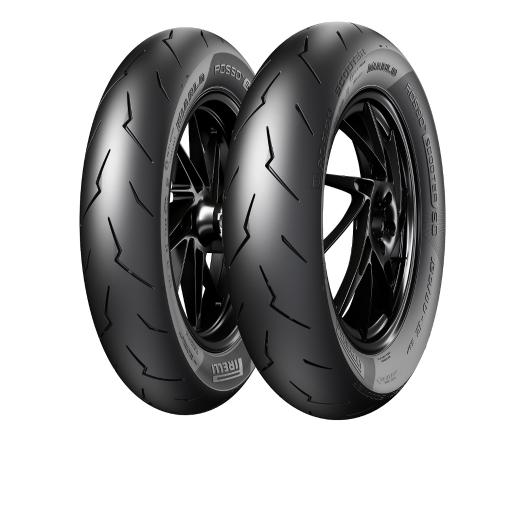 DIABLO Rosso Scooter SC Set Isometric
Track handling is one of the main features of this product, which will be appreciated for its agility in changing direction, its precision in taking and maintaining the most challenging racing lines. Performance consistency is also an extremely important factor in winning races : thanks to the combination of materials and tread pattern, DIABLO ROSSO™ SCOOTER SC ensures maximum performance for the entire race and not only on dry surfaces, where Pirelli is already the reference for all competitors, but also in intermediate wet conditions.
The new DIABLO ROSSO™ SCOOTER SC is available in the sizes 100/90 – 12 M/C 64P TL front and 120/80 – 12 M/C 55P TL rear.