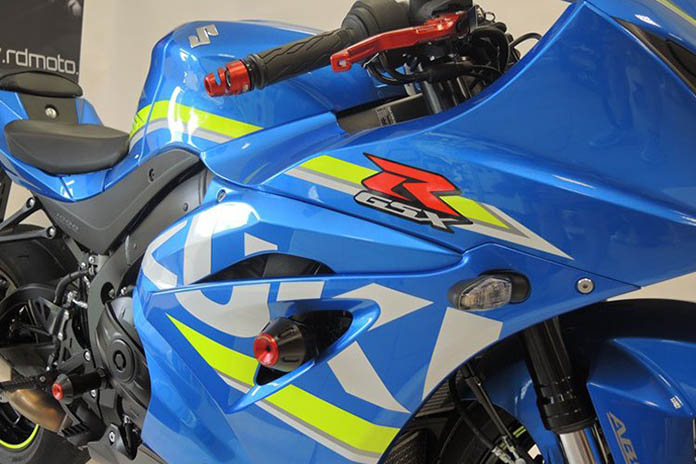 RDMOTO has introduced a range of crash protectors and frame sliders to fit the 2017 Suzuki GSX-R1000, as well as performance brake and clutch levers.
The Czech manufacturer started producing crash protectors in 2001 and now offers several different designs, covering hundreds of models of motorcycle, in addition to levers, crash frames and paddock stands.
The PH01 are classic 'mushroom' shaped crash protectors, made from black or white polyamide. Measuring 50mm wide and 60mm long, each one contains an internal steel insert, to increase its strength and allow the use of shorter screws during assembly. Supplied complete with fitting kit, they cost £57.60 including VAT.
For riders looking to add a splash of colour, the PHV1 protectors are similar, but come with an anodized cap, available in a choice of seven different colours, selling for £80.40.
RDMOTO also produce crash sliders. The SL01 is highly effective, thanks to the large sliding surface (compared to traditional 'mushroom' protectors). Made from black or white polyamide, it is 119mm long and 72mm high and the angle of the protector can be adjusted to suit the bike's profile. Supplied with fitting kit, with a choice of seven anodized inserts, for £102.00.
Alternatively, the SLD Diamond Sliders are made from POM-C, a highly crystalline resin that is strong and rigid, with a low coefficient of friction. Milled on 5-axis CNC machines, they are fitted to the motorcycle with duralumin adapters,and can be rotated to follow its lines. RRP £118.80.
Matching front axle protectors, made from black polyamide with an anodized aluminium cap, are available in seven colours, selling for £43.20 including VAT. The length of the protector is 25mm and its width is 49mm.
Completing the package are fully adjustable brake and clutch levers. Produced from duralumin T 70-75 and milled on modern CNC machines, they come in 'Short' (136mm) and 'Standard' (170mm) sizes and a stainless steel box is inserted in the lever adjustment mechanism, to increase its durability. Available in a choice of seven colours, the anodized surface is protected by a special UV-resistant varnish. RRP £94.95.
Call Skidmarx on 01305 780808 or visit www.skidmarx.co.uk for more information