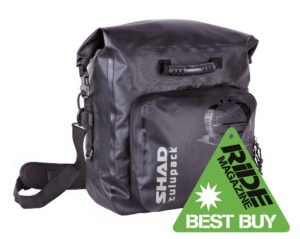 Another great reason to stock the fantastic SHAD luggage range!
SW18 Waterproof Laptop Bag – RRP ONLY £102.99
Order today at: www.motorcyclepartsnetwork.co.uk
We know Shad products are good; we use them ourselves. However it's always nice to have your beliefs confirmed by others, especially when it's one of the most respected names in the trade.
Ride magazine has long been the number one publication in the UK for riders of all types of motorcycle and scooter to turn to when it comes to reading honest, unbiased and valued kit reviews.
For a manufacturer, to receive a RIDE 'Best Buy' or 'recommended' tag from Ride is an accolade certainly worth having, and SHAD have recently joined that exclusive club.
In a test of messenger bags in the current September 2016 edition of RIDE magazine, the SHAD SW18 won the coveted Ride Best Buy award.
Of the 100% waterproof, 18 litre capacity, PVC-coated 420D Nylon bag, editor Colin Overland said, "This is a huge roll-top bag made of PVC and nylon that's very easy to use." And he summed it up as, "extremely effective, and properly waterproof."
With a removable shock-proof inner compartment, designed to protect your laptop, two exterior pockets, an adjustable and removable should strap to turn it into a backpack and four straps which can be used to fix it to a motorcycle or scooter luggage rack, the SW18 is part of the fully waterproof Zulupack range of SHAD products, and we think you'll agree with RIDE magazine in that it is "a brilliant performer."
The SHAD range is only distributed in the UK by the official UK distributor, Motorcycle Parts Network, who offer an exclusive TWO YEAR UK backed guarantee on Shad products.
For further information and details of your nearest official stockist please visit www.shad.co.uk or call 01908 214413
Click here for more info on Arai Helmets
Click here for more info on Xena Security
Click here for more info and to buy Biker T-Shirts
Grid Girls UK
If you would like to receive our headlines daily to your email inbox then sign up to our newsletter: Here
Subscribe to our news channels: Here