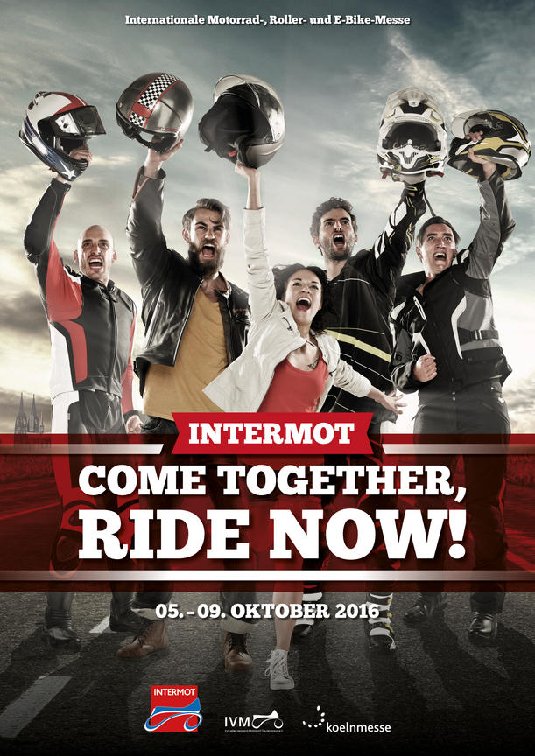 INTERMOT 2016: Come together – ride now!
All signals are green for the leading motorcycle and scooter show
In two weeks, it will finally be that time again: the international motorcycle industry and motorcycle fans from all over the world will be meeting up in Cologne for INTERMOT 2016. Right up front in the starting lineup are the numerous world premieres from manufacturers of motorcycles, scooters, E-scooters and E-bikes, which promise a veritable wealth of innovations. Positioned directly behind these are the new products of a total of 1,127 providers from 41 countries, who are also presenting themselves to the international specialised trade and the biker scene. The extraordinary event programme of INTERMOT has its eye on a podium finish, with spectacular stunt shows and action for big and small. The basic conditions for an unforgettable course of the trade fair from 5 to 9 October 2016 are optimal: all top players of the industry will be there, and the range of offerings extends from motorcycles, scooters, e-bikes, combustion and electric motors, as well as trailers and sidecars, to parts and accessories for motorised two-wheelers. INTERMOT customized, an area of focus specially targeting the customizing scene, is also taking place for the first time.
Everyone that is anyone in the world of motorised two-wheelers is represented with an impressive presentation at INTERMOT 2016. Trade visitors and the public can look forward to the sophisticated presentations of BMW, Ducati, Harley-Davidson, Honda, Horex, Kawasaki, KTM, Kymco, the Piaggio Group, Polaris, Suzuki, Triumph and Yamaha. Expansions: Harley Davidson and Horex! Daytona, Held, Rev'it, iXS and Rukka will be among those presenting their latest clothing products. Innovations in the parts/accessories segment will be presented by Paaschburg & Wunderlich, Johannes J. Matthies, Parts Europe, Touratech and SW-Motech. Well-known return or new exhibitors of INTERMOT include the renowned companies Detlev Louis and Alpinestars.
INTERMOT 2016 has been able to grow significantly with regard to exhibitors. In comparison to the event (2014: 960), this year 1,127 exhibiting companies are participating – this corresponds to a plus of more than 17 percent. The growth is especially noticeable in the INTERMOT customized section. As a leading global meeting point, INTERMOT is also distinguished by a very high level of internationality. 69 percent of the exhibiting companies come from abroad. The strongest contingents are from Italy, the United Kingdom, Pakistan, the Netherlands, the USA, but also China and Taiwan.
INTERMOT Cologne will fill halls 5-10 of the Cologne fair grounds with a total gross floor area of 129,000 square metres. The successful concept of distributing the market leaders through all halls will be continued in order to ensure a steady visitor flow to all areas and segments. BMW and Yamaha will be exhibiting in hall 6, as will Polaris with the Victory and Indian brands. The Piaggio Group, Suzuki and ZERO are points of attraction in hall 7, while Ducati, Kawasaki and Kymco are positioned in hall 8. Harley-Davidson, Honda, Husqvarna, KTM and Triumph will be presenting their range of services in hall 9. Trade visitor fans will find INTERMOT customized in hall 10, an autonomous show within the show for the customizing-scene. It is already a tradition that trade visitors and end consumers will experience the whole world of elecromobility on two wheels in hall 5.2. The younger generation finds exactly what it's looking for in hall 5.1: more than 3,500 square metres of action and fun for kids.
Consistent conceptual expansions
INTERMOT 2016 convinces with consistent conceptual expansions in order to build on its position as the leading business and event platform. Trends and branch developments that move the industry and the motorcycle community will be integrated into the event in a way that is suitable for the target groups.
INTERMOTcustomized – meeting point of the scene
In this way, the international customizing scene has been established for the first time as a standalone show-within-a-show format under the name "INTERMOT customized": a presentation platform tailored to the target group. In hall 10.1, in addition to the V2 custom scene, the new wave custom scene of café racers and modern adaptations will also be showcased. Exhibitors here include, for example, vehicle manufacturers BMW, Harley-Davidson, Kawasaki, Triumph, Yamaha and Boss Hoss. The providers DMD, John Doem Nolan and Rusty Pistons from the helmets and clothing product segment will be there. In addition to this, many young and wild companies will be showing their products in the Craftrad Concept Store. Among others, Custom Chrome Europe, Motorcycle Storehouse and Detlev Louis will be exhibiting parts and accessories for the customizing segment. Impressive conversions and concept studies from WalzWerk Racing, Fred Kodlin, No Limit Custom, Independent Choppers and Ehinger Kraftrad will be on display.
INTERMOT customised will be supported by a host of creative industry and sporting special events, competitions and races. Highlights will surely be the custom competition Essenza, initiated by INTERMOT together with Glemseck 101, or the AMD Championship of Custom Bike Building with its spectacular conversions. The world championship focuses mainly on the category of V2 customs, but also addresses the new custom scene with the category of café racers.
Also in the INTERMOT customized programme: in the Garage Area one can look over the shoulders of the pros working on project bikes; the wild custom sprint bikes of the Sultans of Sprint, which you can experience on the racetrack and in a special event, as well as a barber shop and a tattoo studio.
INTERMOT e-motion, the special segment on the subject of electromobility, is also getting a new look. Developed as a forward-looking, standalone show-within-a-show format, trade visitors and consumers can find everything involving electromobility on two wheels in hall 5.2: from brand-new pedelecs, e-bikes and e-scooters through to innovative e-motors for retrofitting and a wide range of accessories. Besides a significantly expanded offering, there will be a tourism area for interested visitors. Various regions will be presenting the advantages and opportunities of electric mobility in the tourism sector at a joint stand.
With "Area 4" in hall 6, the quad and the ATV scene has a central meeting point that conveys an initial overview of the theme. This is where quad specialists and motorcycle brands that also manufacture quads will showcase their product ranges in quads, ATVs and side-by-sides, divided into four thematic areas: sport/off road, utility vehicles, and custom.
New is also the "Boulevard of Touring", which will run centrally along the northern boulevard at INTERMOT 2016. Touring motorcycles parked in the theme areas invite visitors to sit on them and try them out. On the Touring stage, an interesting, non-stop programme of events will be on offer: GPS and photo workshops, accounts of exciting experiences and varying photo shows, as well as tips from experienced adventurers. There is something for everyone in the Tourism Centre, immediately adjacent to the entrance area of Hall 8: advice from specialist travel operators and inspiring ideas for your next trip from hotels in the major holiday regions.
Show & action at it's best – the events of INTERMOT 2016
As an event-oriented trade fair, INTERMOT will once again not only be offering its visitors exhibitor presentations, but also impressive shows and many other highlights on the topics of motorcycles, scooters and motorsport. To facilitate this, the entire outdoor space of the Koelnmesse, 70,000 m² in total, is being made available for the event, along with special areas within the halls. Here the general public will be able to try out the new models on the different test tracks, watch racing action and breathtaking professional stunt shows live. There are also lots of exciting things for even the youngest fans of two-wheelers to discover and try out.
INTERMOT Cologne will be open daily from 5 to 9 October 2016 from 9:00 a.m. to 6:00 p.m. and on 7 October from 9:00 a.m. to 8:00 p.m. Admission is free as of 6:00 p.m. Wednesday, 5 October is reserved exclusively for trade visitors. Private visitors can gain entry on this day with a specific day ticket on special terms. The availability of these tickets is limited. There will be no programme of outdoor activities on the trade visitor day.
Click here for more info on Arai Helmets
Click here for more info on Xena Security
Click here for more info and to buy Biker T-Shirts
Grid Girls UK
If you would like to receive our headlines daily to your email inbox then sign up to our newsletter: Here
Subscribe to our news channels: Here