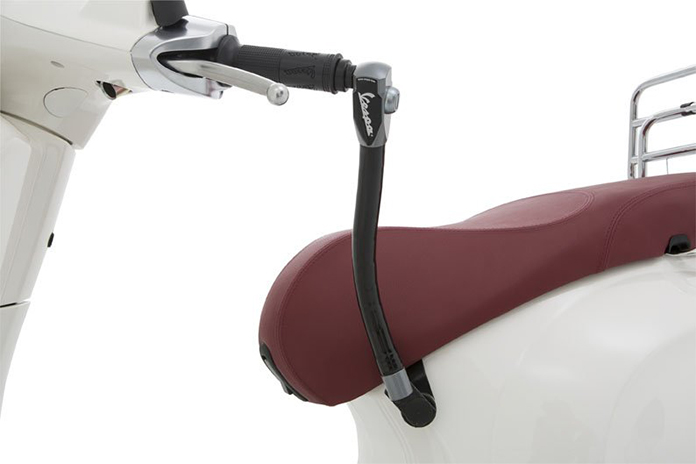 A handlebar lock is a simple, yet highly effective, security system, which is always available, wherever you go, because it is permanently attached to the scooter.
One end of the armour-plated cable is fixed to a bracket beneath the seat and the other can be locked to the handlebar in a few seconds, preventing the scooter from being ridden or wheeled away.
When not in use, it is fixed neatly between the footrest and seat, so it doesn't occupy space in the compartment under the seat or in the top box.
Unlike traditional chain locks, which are secured through the wheels, the handlebar lock is much cleaner to use too.
A 1.0 metre extension cable is also available, should the rider wish to secure the scooter to a lamp post, railings or another anchor point.
Two versions are offered in sizes to fit most current models from Vespa and Piaggio.
Retail prices for the standard handlebar lock start at £47.99 including VAT.
The luxury handlebar lock offers the highest level of security and comes with an STS locking system, anti-drill coating, 7 mm hardened steel (carbo-nitride) joints, stainless steel internal cable and anti-leverage mounting bracket. Prices start at £126.99.
The 1.0m extension cable sells for £45.99. All prices include VAT.
For details on these and the complete range of Vespa official accessories visit www.fowlersparts.co.uk.
Click here for more info on Arai Helmets
Click here for more info on Xena Security
Click here for more info and to buy Biker T-Shirts
Grid Girls UK
If you would like to receive our headlines daily to your email inbox then sign up to our newsletter: Here
Subscribe to our news channels: Here