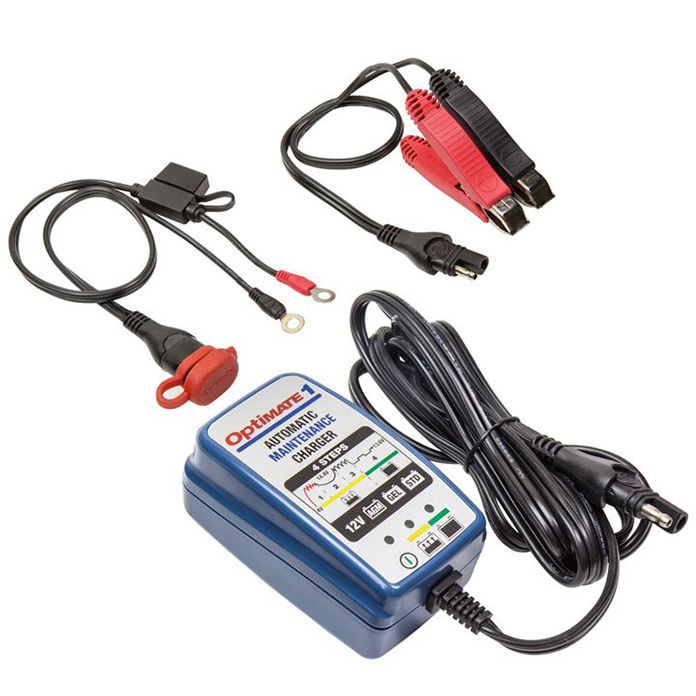 Delivered with a 1.8m (6ft) power cable (like all other OptiMate chargers) for convenience and versatility, two keyhole slots allow for easy wall mounting and there is a slot to fit a Velcro strap – shaped so that the charger can hang from a motorcycle's handlebar.
High quality cable accessories are included – such as the O-04 battery clip, which is custom-designed to grip onto flat, square or round battery posts, and the O-01 weatherproof battery cable (-40°C rated with 15A fuse), which comes with M6 rings that perfectly fit powersport battery hardware. A rubber boot and cap seals the SAE connector against water and dust.
The key to the strength of the OptiMate 1+ is the unique OptiMate 24-7-365 maintenance
programme. OptiMate's "connect and forget/no more problems" claim has been proven and appreciated by millions of riders worldwide.
The OptiMate maintenance programme does not cycle the battery, it automatically connects and disconnects every hour, always monitoring and then replacing only the charge drained in that previous hour. The longer you leave the battery connected, the
stronger it becomes!
A special low Volt pulse mode can 'wake up' the battery from as low as 4 Volts before it delivers constant current charge. If the battery is too far gone, this smart little charger won't simply 'green light' that battery, instead it warns the rider that the battery cannot hold charge.
The OptiMate 1+ retails for £42,99 including VAT. Visit www.tecmate.com for details.
Click here for more info on Arai Helmets
Click here for more info on Xena Security
Click here for more info and to buy Biker T-Shirts
Grid Girls UK
If you would like to receive our headlines daily to your email inbox then sign up to our newsletter: Here
Subscribe to our news channels: Here