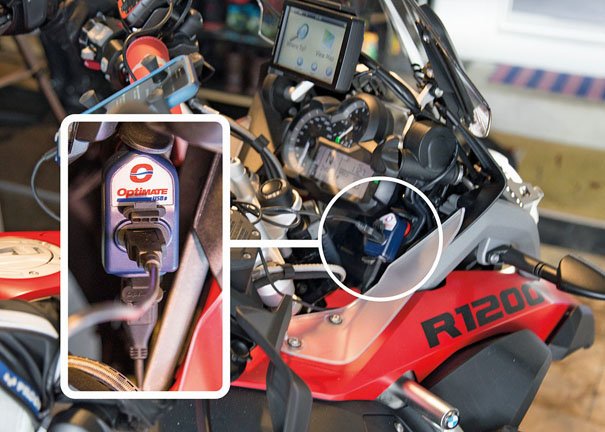 New from OptiMate, the USB-O105 enables fast charging of two mobile devices at the same time, from any standard BIKE (DIN Ø12mm) power socket. Designed for riders who carry multiple devices, whether touring, commuting or just out for the day, the O-105 can withstand to the rigours of the riding environment and will deliver ample charge for power-hungry modern devices.
2 x USB sockets located directly on the charger
Connects to a standard BIKE (DIN Ø12mm) power socket
Weatherproof
3300 mA fast charge
AUTO off 3 hours after engine stopped or if battery voltage drops below 12.3 volts
Delivering 3300 mA through dual USB sockets, OptiMate's O-105 provides enough power to charge a combination of smartphone, GPS, camera, and tablet.
Designed for machines where access to the socket is limited, especially those mounted below the saddle, the O-105 protrudes only 38mm from the socket and its 90° USB outlet allows charging cables to be routed out of harm's way.
Like OptiMate's entire range of connectors and cables, weatherproofing comes as standard. The O-105 has a unique USB socket seal that keeps moisture out when a USB cable is plugged in, and a runner cap to seal out the elements when not in use.
The O-105 is 100% true power rated, delivering a continuous and consistent charge – essential for increasingly sophisticated modern devices. It also comes with a built-in Apple 'handshake', to guarantee iPhones and iPads charge at the appropriate maximum.
Protection for the bike's battery is built-in; the O-105 will automatically stop charging any device after three hours or if the voltage drops to 12.3V.
The OptiMate USB O-105 retails at £24.95 including VAT. Visit www.tecmate.com for details
Click here for more info on Arai Helmets
Click here for more info on Xena Security
Click here for more info and to buy Biker T-Shirts
Grid Girls UK
If you would like to receive our headlines daily to your email inbox then sign up to our newsletter: Here
Subscribe to our news channels: Here