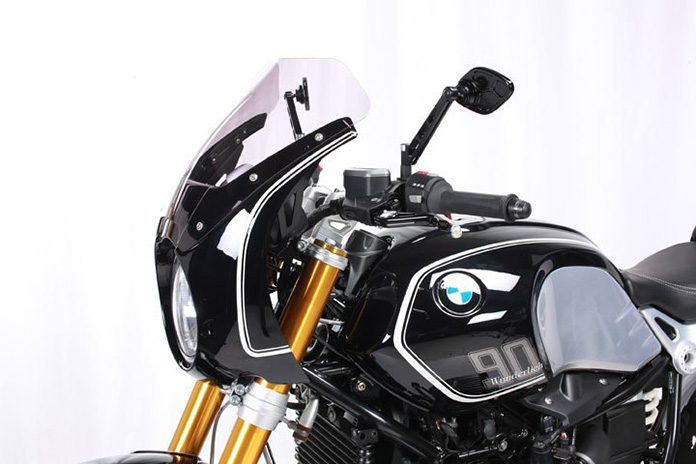 Wunderlich 's new Tank Stripe Kit is a quick, easy and inexpensive way to add a retro touch to the R nineT. 
Reminiscent of the pin-striping on the BMW tanks of the late 1970s/early '80s , the kit helps to emphasise the classic lines of the R nineT, and adds a dash of subtle personalisation, without the need for costly custom paint work.
The stripes are made from high quality, weather and UV-resistant material, which will not deteriorate or fade with time.
It is self-adhesive, so there are no messy glues or solutions to worry about, and the pack comes with clear instructions and markings to make fitting a doddle.
Once on, the special adhesive holds the stripes firmly in place; no special treatments are required to look after it – simply wash your machine in the normal way.
The Kit comes in classic pure white, to complement the R nineT's black tank, and costs £69 including VAT. It's available from the exclusive UK distributor for Wunderlich: www.nippynormans.com
Click here for more info on Arai Helmets
Click here for more info on Xena Security
Click here for more info and to buy Biker T-Shirts
Grid Girls UK
If you would like to receive our headlines daily to your email inbox then sign up to our newsletter: Here
Subscribe to our news channels: Here